The 2023 Women's World Cup is in full swing, and these daily files give you the latest reporting from around the tournament as well as betting lines, what-to-watch-for information and best reads. Check in with ESPN throughout the tournament as we bring you the latest from Australia and New Zealand.
---
The lead: Spain seal final spot over Sweden
AUCKLAND -- On a cold and wet night in New Zealand, Spain sealed a place in their first-ever World Cup final with a dramatic 2-1 win over experienced Sweden.
The Swedes, in their fifth World Cup semifinal, had allowed only two goals in their five games leading up to the match. In the first half, they remained their stubborn selves, refusing to give up a goal in the first 45 minutes for a fifth match running, and dared Spain to do more with the ball. Elin Rubensson's perfectly timed tackles helped avoid danger at the back, but their loose passes in attack stifled their ability to get at La Roja.
But in the 57th minute, coach Jorge Vilda changed the complexion of the Spain attack, with Salma Paralluelo brought on in place of Alexia Putellas. And it worked, with her immediate intervention enough to tee Alba Redondo up to send a shot into the side netting.
- Women's World Cup: Landing page | Bracket | Schedule | News
Having opened the scoring in the quarterfinals against Netherlands in the 81st minute, Spain did the same again when the impressive Paralluelo stroked the ball into the bottom corner with the team's first shot on target.
However, there was still plenty of time for drama, as Sweden's own super-sub Lina Hurtig got an important touch to knock the ball into Rebecka Blomqvist's path for the striker to fire home an 88th-minute equaliser.
The celebrations lasted only a minute. After a short corner routine was worked to her outside the box, Olga Carmona, who had been chancing her luck from range all evening, launched the ball over goalkeeper Zećira Musovic and off the underside of the bar. Sweden looked to atone for their slack defending in the final stages as they hunted another leveller, but it was La Roja who dug deep and kept their heads under the most intense pressure they've ever experienced.
Spain's players did laps around the pitch after the final whistle and will have a chance to make history in their fourth major tournament under Vilda -- despite the off-pitch issues that have dogged them in recent times. Sweden, yet again, were condemned to the third-place match and will wonder what could have been. -- Sophie Lawson
---
Sights and sounds
Just the ticket
AUCKLAND -- The back page of Tuesday's New Zealand Herald carried the headline "Just the Ticket" ahead of the Auckland semifinal between Sweden and Spain at Eden Park -- another sellout at the spiritual home of rugby's All Blacks.
It was a celebratory headline because ticket sales in New Zealand for the World Cup have smashed all pre-tournament hopes and expectations.
The co-hosts had set an objective of 500,000 ticket sales for games in Auckland, Wellington, Hamilton and Dunedin, but that figure was set to go beyond 700,000 with the Eden Park semifinal -- New Zealand's final game of the tournament.
"It is pretty phenomenal when you think about it," FIFA Women's World Cup CEO Dave Beeche told the Herald. "New Zealand, a rugby-loving country as we are, to turn out as we have for women's football is just fantastic. We always had belief in the product, but something special has happened with this tournament. It's been magical and captivated the hearts and minds of the public in both countries, and there's no recipe for that." -- Mark Ogden
Lynch: No sweeter win for Australia than beating England
Joey Lynch looks ahead to a rivalry clash in the World Cup semifinals with hosts Australia set to face England.
Arnold wants to see goalkeeping kits sold
SYDNEY -- After her heroics in Australia's World Cup semifinal win over France, goalkeeper Mackenzie Arnold has become the toast of her homeland; spawning glowing tributes and a horde of brick-wall-themed memes, and even inspiring one Melbourne street to unofficially re-label itself from "Arnold St." to "Mackenzie Arnold St."
Despite this newfound fame, Australia supporters cannot buy the 29-year-old's jersey to express their appreciation. For as is the case with her direct opponent on Wednesday evening, England's Mary Earps, Nike has not made Matildas goalkeeper kits part of its merchandise range for the World Cup.
Earps described the decision by Nike to not sell her goalkeeping kit as "hugely disappointing and very hurtful" at the start of the World Cup -- a tournament in which the performances of goalkeepers have become a defining feature. Arnold's voice can now be added to those hoping to see the goalkeepers' union get the chance to be repped on the streets.
"For sure. Obviously, it would be really cool to see kids or anyone really with the goalkeeper jersey on, especially seeing how well goalkeepers have done throughout this whole tournament," Arnold said. "In terms of why they don't sell them, I'm not too sure and I haven't looked too much into it, sort of being more focused on the World Cup. But in terms of selling them, that would be quite cool in the future." -- Joey Lynch
A lasting legacy
SYDNEY -- The first signs of the legacy that the World Cup will leave on Australia's domestic league have begun to emerge, with defending A-League Women champions Sydney FC revealing on Tuesday that they have broken their record for memberships sold.
In addition, the Sky Blues say they are ahead of schedule in their efforts to surpass a target of selling 1,000 ALW-specific memberships before the 2023-24 season, which will see the competition expand to 12 teams and play a home-and-away season -- the ALW becoming the first of any of Australia's major football codes to do so for its women's league.
One of only two ALW clubs to have a current player as part of the Matildas' World Cup squad -- via France penalty shootout hero Cortnee Vine (the other being Clare Hunt of the Western Sydney Wanderers) -- Sydney received a further boost for their preparations for the coming season after reports that the forward had rejected an overseas move to return for 2023-24.
According to AAP, Vine, 25, will sign a one-year marquee deal for the coming season, only the third player in league history to do so after Sam Kerr with Perth Glory and Emily van Egmond with the Newcastle Jets -- Joey Lynch
Chastain: USWNT 'have to move forward' from Vlatko
U.S. legend Brandi Chastain says that Vlatko Andonovski's side weren't agile enough to succeed at the 2023 Women's World Cup.
---
News of the day
- Australia head coach Tony Gustavsson has suggested his side are underdogs ahead of their Women's World Cup semifinal clash with England on Wednesday. "In terms of favourites, and who's the favourites, I think I'll leave it to you guys to speculate and write about that," he said. "[But] if you look at rankings, they're favourites. If you look at where the players play; they have starting players in top clubs and top leagues all over the world. And not just 11 [players], they have like 15, 16 [at top clubs]. And then you're compared to us, we have bench players in those teams. We have players playing in A-League Women, we have players playing in mid-table teams in Sweden.
"If we look at resources financially, obviously they are a massive favourite going into this game. But if you then add the belief we have. [And] the one thing that we have that they don't have is the support and the belief from the fans. And that itself is going to be massive tomorrow."
- United States legend Brandi Chastain does not think that Vlatko Andonovski is the right man to the take the USWNT forward after their World Cup round-of-16 exit.
"No, I don't think he'll last," Chastain told ESPN's "The Far Post" podcast. "Unfortunately, his record doesn't speak to that. Four of 10 games in big tournaments, four wins, that's very much under the standard. I would say 9 out of 10 would have been, we want you to win 9 out of 10. And that you've only won four, that's hard."
Chastain, who was part of the U.S. team that won the 1999 Women's World Cup, scoring the winning penalty in the shootout, questioned whether this version of the USWNT had been prepared enough to be adaptable and fluid in the face of a rapidly improving global women's football landscape.
"Sometimes the opponent presents something differently that maybe we didn't see coming and we didn't plan for that," she said. "Did we do enough to help our players to be agile enough to make change? I feel like we weren't that team. And I think we have to be that type of entity. It's like we're the biggest shareholder of women's soccer. And so we have to be better in those moments because the world is looking at you, you have the biggest target and so for that reason, and that reason alone, would be enough to say like we have to move forward [without Andonovski]."
Wiegman admits England have a plan for Kerr in World Cup semifinal
England manager Sarina Wiegman insists that Australia are more than just Sam Kerr ahead of the World Cup semifinal.
---
Match preview
Australia vs. England: Stadium Australia, Sydney; 8 p.m. local / 6 a.m. ET / 11 a.m. BST
SYDNEY -- Australia head coach Tony Gustavsson believes England are "favourites" for Wednesday's semifinal; England manager Sarina Wiegman doesn't think Australia are "underdogs." Somewhere in the middle lies the outcome of what will be a truly epic encounter in a sold-out Stadium Australia. It's the semifinal the co-hosts wanted, and the nation will be gripped by their Matildas when they face the Lionesses.
There are subplots aplenty in this tournament of twists and turns. Wiegman's England have dealt with Keira Walsh's injury against Denmark, then Lauren James' red card against Nigeria. Australia have been keeping their eye on Kerr's calf, after that injury before the tournament. But it was the match-up many hoped for when the draw was made, and despite the turbulence, both teams head into the clash with fully fit teams.
Gustavsson was full of praise for Wiegman on Tuesday, while Wiegman returned the compliment. The cordial nature of the pre-match engagements will also be seen by both sets of players -- these are two squads that know each other well; teammates at club level, some are friends away from the pitch -- but that will be parked come kickoff.
Keep an eye out for Caitlin Foord vs. Lucy Bronze, and Kerr up against Millie Bright, but there are so many intriguing matchups across the field.
The two teams met last in April, with Australia winning 2-0. It was a victory that halted England's 30-match unbeaten run under Wiegman. For Australia, it justified their tag as tournament hopefuls. For England, it was a lesson they needed for how to solve the problem of playing against a low block. It was a transformational night, but nothing that will compare to Wednesday as Stadium Australia is painted in green and gold. -- Tom Hamilton
---
Features of the day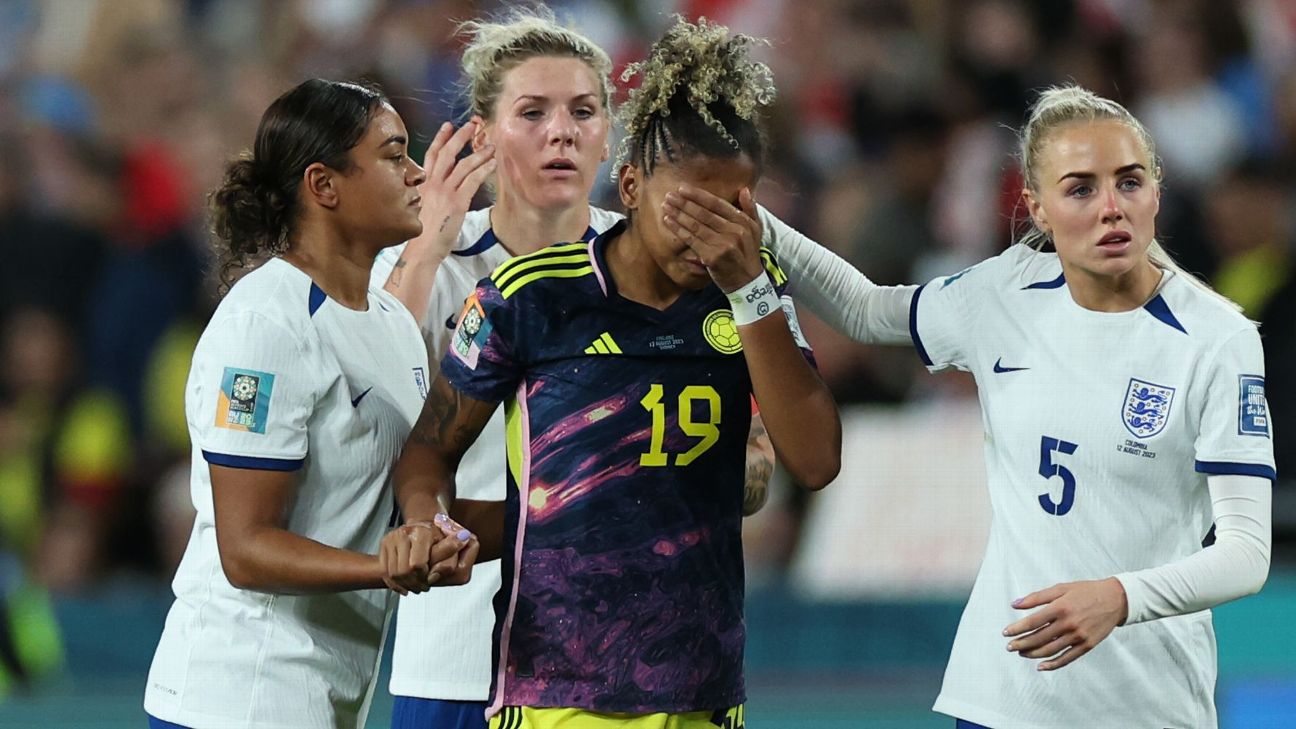 Why England's defence is the backbone of World Cup success
England have conceded only two goals in this World Cup. After a switch to a back three, their defence has given them the stability for success.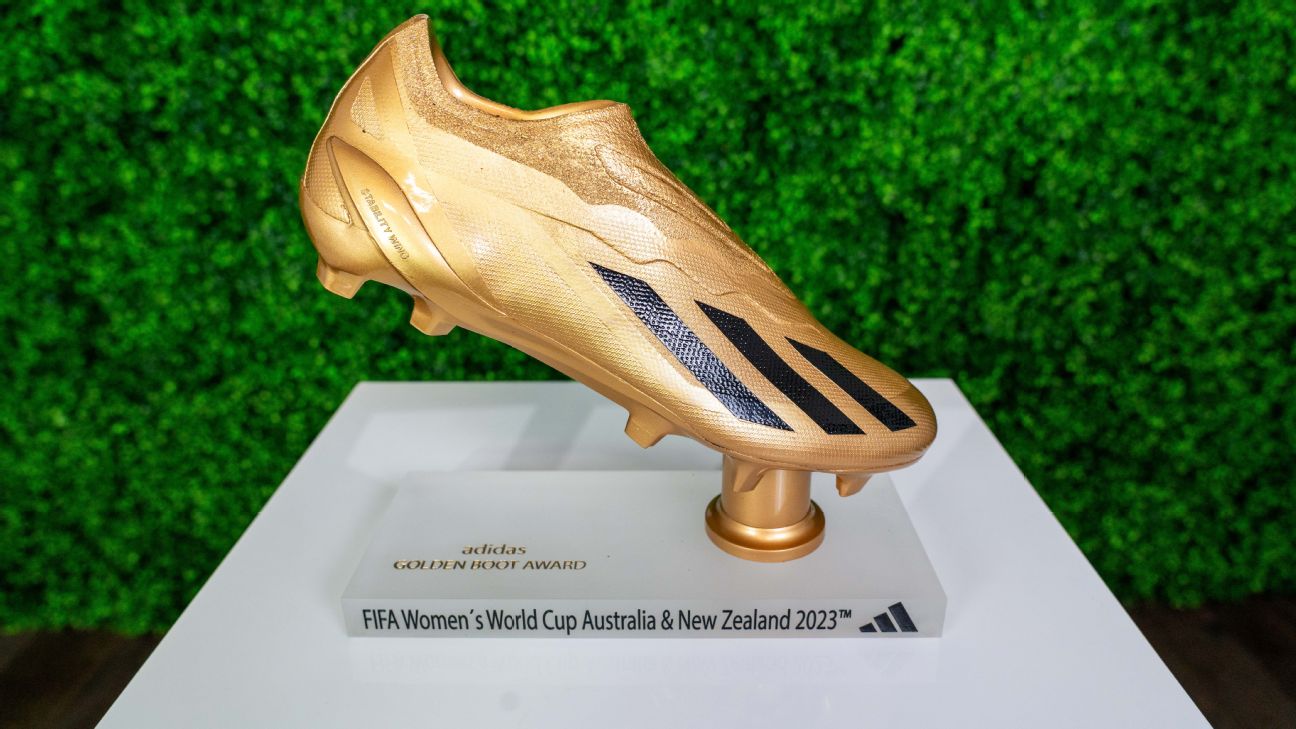 Race for the Golden Boot: Who will be top goal scorer at Women's World Cup?
Hinata Miyazawa is still the 2023 Women's World Cup's top scorer, but with Japan now out, could another player overtake her and claim the Golden Boot?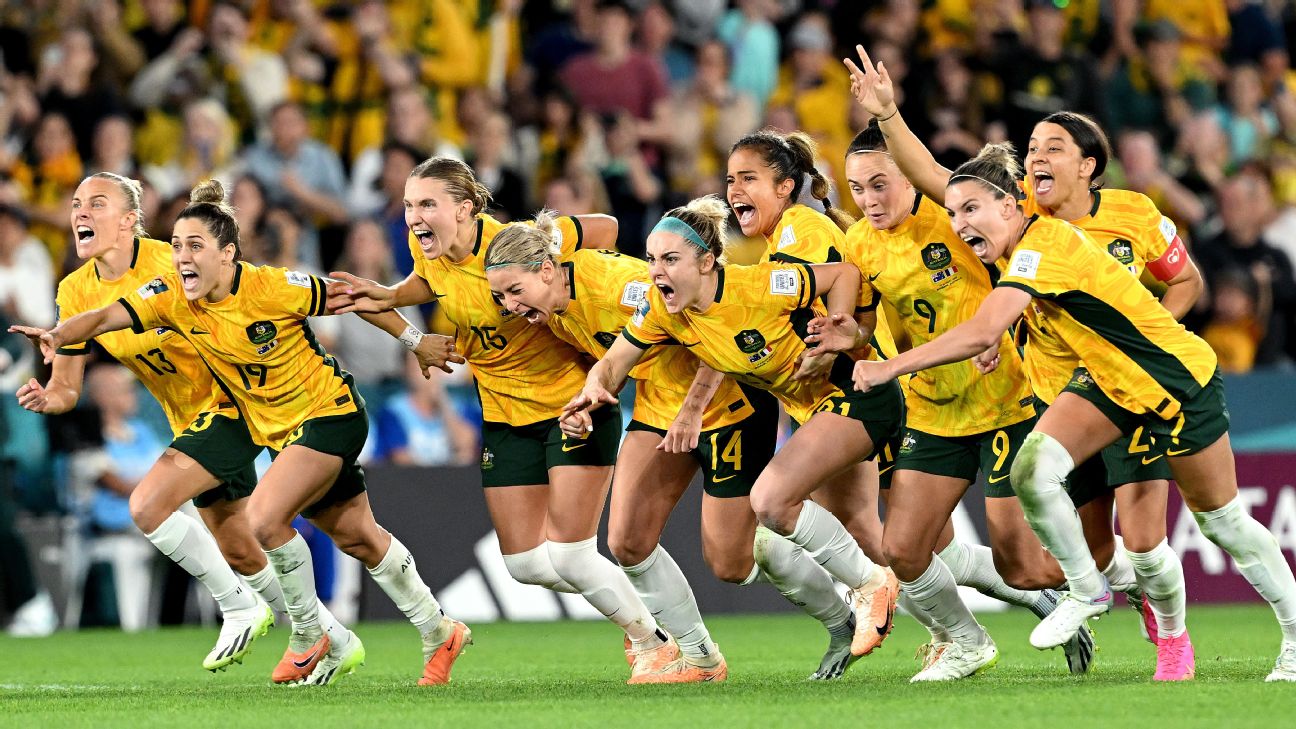 The Matildas' moment: Each penalty had its own story to tell
Nothing summed up Australia's historic win over France quite like the shootout itself. Penalties don't often tell the story of a match, but this time they did.
---
And finally ...
The England vs. Australia sporting rivalry -- which England coach Sarina Wiegman admitted to being completely unaware of earlier this week -- has spilled over into cricket, with Australia players David Warner and Usman Khawaja taking to social media to back the Matildas and reopen wounds from the recent Ashes series, which ended in a 2-2 draw last month.
During the final Test match in the five-game series in London, England won amid anger from Australia due to a controversial ball switch during Australia's second innings which was billed as "Ballgate" Down Under.
"An early good luck to the @TheMatildas," Warner tweeted. "Just keep an eye out in case the Poms ask to change the ball."
Khawaja then replied by tweeting, "They going to go with the 2010 'Jubulani' ball."
Back in 2010, the Men's World Cup in South Africa was marred by complaints about the official tournament ball -- the Jabulani -- because it was unpredictable and moved in the air more noticeably than previous balls. -- Mark Ogden